Bazooka Batttle hay Đấu Bazooka là một Fun Mode trong Counter-Strike Online
Mục tiêu chính là tiêu diệt. Counter-Terrorist phải tiêu diệt hết Terrorist và ngược lại để hoàn thành vòng đấu. Nhiều vật có thể bị phá bởi Bazooka như xe.
Khi vòng đấu bắt đầu, người chơi được trang bị Bazooka với 70 viên 84mm và Seal Knife. Tốc độ người chơi tăng 15%, giống tốc độ trong Half-Life. HP cũng được tăng lên 200(gấp đôi).

Sẽ có thông báo bạn bắn chính xác bao nhiêu.
Có tính năng Combo.
Đứng yên dễ bị bắn trúng.
Không nên đi chung với nhau dễ chết chùm.
Không nên bắn lung tung, để dành đạn.
Nhảy để làm giảm dame nhận được.
Bắn vào xe cộ gây ra vụ nổ giết chết người chơi xung quanh.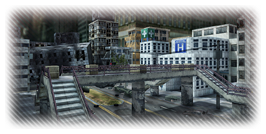 | Tên | Mô tả | Nhiệm vụ |
| --- | --- | --- |
| [Demolition Man] | Gentleman, this bazooka has a great destruction power. You will hurt yourself, if you do not know how to control it properly, so be careful. You can only achieve it in rooms with 4 or more players. | Hạ 10,000 địch trong Bazooka Battle mode. |
Hầu hết những vật phá được được lấy từ Counter-Strike: Condition Zero Deleted Scenes như Humvees và SCUD Launchers.
Sau đợt update, Bazooka có knockback cao hơn và số vòng và kill được chỉnh lại.
Community content is available under
CC-BY-SA
unless otherwise noted.