0pxv/tAo-upTDPss
Bấm để bật nhạc nền
Tin Mới Nhất
Tomahawk Xmas
This is a specially modified version of Tomahawk decorated with Rudolph's horn and blinking LEDs. It is specially modified to celebrate Christmas. Its secondary attack can do knock back effect to zombies in Zombie and Zombie Scenario modes.
Petrol Boomer
This is a special weapon to launch petrol bombs. When exploding, it leaves the traces of fire that can damage the enemies within the range.
Horse Axe (Indonesia)
An axe with high damage, curved with the mighty red horse. Attacking zombies with the secondary fire can knock away incoming zombies in Zombie and Zombie Scenario modes.
Fun Facts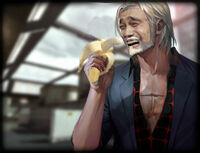 Did you know that...
Wanna add yours? Click here to continue.
Contributions
Wanna help us out?
Edits can be made as long as you have registered - read our edit policy and start contributing!
"Stubs" are articles that need the most help, edit them!
Uploading images is another really easy way to help out - read our policy then start uploading.
If you are new to wikis, check out Wikia Help for beginner tutorials and more.
Problems and suggestions
You can discuss your problems at www.csoforums.net.
Get any suggestion? You can ask admin directly!
Weekly top 10 editors

loading...

Admins
31 December 2014 08:00:00 +0700 còn lại cho tới phiên cập nhật kế tiếp Chú Ý! Hôm nay là ngày CẬP NHẬT!


Open Beta vào Quý 1 - Năm 2015
Nhà Phát Hành
Counter-Strike Online
Counter-Strike Online 2
Statistics
Since November 22, 2010:
We have created a total of 241 articles.
A total of 2,208 images were uploaded.
0 users are still active to date.
The community has made 4,830 edits on the wiki.
Think you can contribute to the numbers? Join us and pick up the challenge! We welcome anyone to our community!
Community content is available under
CC-BY-SA
unless otherwise noted.